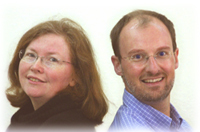 I was very pleased to be interviewed by Anne Fox for
Absolutely intercultural
. It's a great podcast for learners, carefully planned and executed, and Anne has a terrific speaking voice.
Our interview
topic was language learning websites, and I spoke about my experiences with using
Babbel
(see my earlier blog on that). Unfortunately, I have been unable to find the time to keep up with it, but I notice I am getting a lot better at following conversations on TV programs in Spanish, so I guess it was of some use.